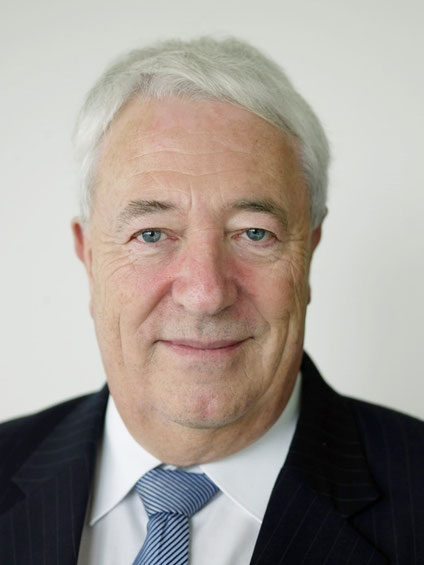 Dr. Frank Brinken has spent his entire professional life in the manufacturing industry and has played an important role in building up the Starrag Group.
He studied mechanical engineering at the University of Aachen in Germany, graduated as Dipl-Ing. (M.Sc.) and thereafter completed his PhD in engineering. 
After a career in large multinational US and Swiss corporations with increasing management responsibilities, Frank Brinken became President & CEO of the public listed Swiss Starrag Group in 2005 until 2014. He is also non-executive director of the Fastems Systems Oy in Finland, a factory automation and Industry 4.0 expert and Vice Chairman of Starrag Holding AG and Tornos Holding SA.
Frank Brinken maintains close relations with the academic world. He was Board member of the Advanced Manufacturing Research Center (AMRC with Boeing) at the University of Sheffield, UK and has been Member of the Board of Trustees of the Fraunhofer IWU (Machine Tool Research Institute) in Dresden/Chemnitz, Germany since 2006. He is Chairman of the Board of the Inspire Foundation for production research at the Zurich Institute of Technology. He has a Professorship at the Chemnitz University, lecturing in the engineering master program. 
On the European level, Mr. Brinken currently assumes the role as Board Member and Chairman of the Market Intelligence Committee of CECIMO, the organisation representing the European machine tool industry.
In all his Boards he is currently deeply engaged in pushing and guiding the fundamental transformation by digitization shaking up the machine tool industry, implying radically changed products properties, a different required skills base of the employees and a departure from traditional development processes. Speed of change has caused the Silicon Valley "fast development" concept to change also development processes in the hereto conservative engineering world.
Jürg Kurmann M&A: What are the success factors for effective Boards in your experience?
I advise against the widespread practice of "promoting" CEOs after their tenure to become directly Chairman of the Board. If the former CEO becomes Chairman, the new CEO will have very limited room to do things differently and the whole company will still very much align itself to views of the former CEO now being Chairman which will impede self-renewal. However, it is very important that a successful CEO becomes a member of the Board after his or her tenure in order to contribute his or her vast expertise and experience and preserve customer relations. At the same token, to change from CEO to a "simple" non-executive Board member requires great self-discipline accepting that a Board may then endorse proposed decisions and strategies of the new CEO which one would do differently. While Board decision making should be based on open controversial and constructive discussions, in the end the Board decision should be taken in consensus and must be backed by all members. This unified strong backing is an important base for the CEO for a forceful execution and to managing the company with a clear long-term view.
While I was CEO of Starrag Group, I was not member of the Board and I find this clear separation of Management and Board function useful for an effective management and good Corporate Governance.
Jürg Kurmann M&A: What was your most surprising or most instructive occurrence in your Board functions?
No comment, Board internals should never be spoken about externally.
Jürg Kurmann M&A: What development in M&A do you expect in the machine tools industry?
Manufacturing is changing much faster than generally expected from a line of insular machines to all-through digitized processes. There are around 1'200 European machine tool companies, of which the top-10 comprise 42% of the revenues while the remaining large number share in the rest. These are smaller companies, normally with revenues in the range of € 20 – 40 million and typical niche players, i.e. very innovative, flexible and focused on their specific niche solution. However, they are now abruptly faced with the requirement that their products must fit into all-through-digitized process chains. Already now, Chinese State owned corporations only buy machinery, which is complying with this requirement. All these niche companies will also need to be able to integrate into digitized supply chains and to provide global after sales services. These disruptive developments require a huge effort in terms of investment, management resources, and change effort. A large number of these "Mittelstand"-companies – mainly located between Bologna in the South and Hannover in the North - were founded in the 50s and 60s and are already facing succession challenges. Many cannot or do not want to make the significant required investments and change efforts and will sell to a larger company having the necessary scale. Thus, I preview a major M&A wave consolidating the industry.
About Jürg Kurmann Mergers & Acquisitions
We support owners and companies in Acquisitions and Divestitures, Restructurings and Corporate Governance topics. We provide individualized support for our clients with full personal commitment. Our approach is customer centric and tailor-made to the specific situation.
Contact us here.