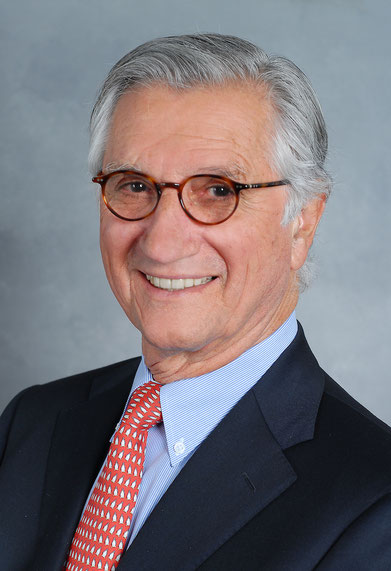 Renato Chiavi started his career as a freight forwarding apprentice at the former Swiss Shipping Company, thereafter significantly developed Panalpina's Nigeria business over 17 years and was COO of Panalpina worldwide, when he changed to Danzas as Head of Global Overseas Traffic in 1995. In 1999 Deutsche Post acquired the american AEI with around 10,000 employees in a $ 1.14 billion transaction. He managed this project and integrated AEI completely into Danzas. Prior to this, in 1998 Danzas had been taken over by Deutsche Post, which in 2002 also acquired DHL and integrated it into Danzas in 2002.
Renato Chiavi, then CEO of Danzas, was responsible for the international shipping and airfreight business in the new unit. In 2005 Deutsche Post acquired the British Excel in a € 5.5 billion transaction. Renato Chiavi was also in this project engaged in a leading position and also in the Integration Committee.
In 2006 Renato Chiavi achieved the retirement age and gave up his leadership position, but continued to oversee various strategic projects for Deutsche Post. In May 2015 Deutsche Post pulled Renato Chiavi out of his  semi-retirement and charged him as interim CEO with the stabilization and realignment of the "Global Forwarding" division with 38,000 employees, which had gotten into turbulences. After 13 months of full steam engagement and a very high number of flight miles, Renato Chiavi handed back the again successfully re-aligned division in June 2016, and has again been managing some special projects since then.
In his career, Renato Chiavi was involved as a responsible line manager in about 35 smaller and larger acquisitions including the subsequent integrations. 
Jürg Kurmann M&A: What success factors in the development of a global company have become significantly more important for you with increasing experience?
I believe the most important factor in a service industry, such as freight forwarding, is the creation of an "esprit de corps", in which all employees trust the management team, and the management team is working towards common goals highly motivated and without any political gimmicks.
In addition, it is quintessential to know the business. This not only creates acceptance with the employees, but it is also important in order to be able to make acquisitions where no proper due diligence is possible, like for instance a takeover bid for a listed company.
I have grown up in a world where bonuses were not the main focus. Instead, for instance, when we had massively exceeded the budget, we flew with the whole team for three days to Rio to celebrate. This way of celebrating successes together gives an excellent team spirit and a much higher motivation and performance orientation than the culture of individual bonuses with exorbitant amounts and demands, which today is rampant in many areas.
Important is also the continuous innovation. We were always the first to try out new offerings and operating models, but always against the background of a well thought out strategy.
For acquisitions, the justification must never be revenue growth, but the price must always be able to be justified by synergies. As the realization of synergies takes place in the integration, the successful integration is ultimately decisive, for which again the exact knowledge of the business is an essential precondition.
Jürg Kurmann M&A: What was your most surprising or most instructive occurrence in your career?
That I have managed to create the global market leader in the forwarding business, starting from my beginnings as a simple forwarding apprentice. What surely helped me a lot in this was that I always had a good acceptance, as employees and managers always knew that I was from the trade, that I had a good track record and "walked the talk". Also, I have always respected all employees and have always given great importance to an open communication.
In the years of the re-orientation of the Global Forwarding business in 2015 and 2016, when high demands were put opon the staff and not one stone was left upon the other, I sent a one-page memo every second week to all the employees, in which I reported briefly and clearly on the status and of what still ahead of us. On my first message, I received about 1'000 mails from employees, of which I answered every single one. I also regularly appeared in large "townhall meetings" in front of the workforce, answering their questions. The resulting acceptance was critical to the rapid progress we achieved.
Jürg Kurmann M&A: What development in M&A do you expect in the freight forwarding sector in the next 1-2 years?
In the recent years, transactions have taken place in great numbers, with the buyers partly taking over heterogeneous businesses, which do not fully fit into their existing business. I therefore expect for the next few years transactions to be more of a streamlining nature with a lower overall volume and lower valuation levels than before.
About Jürg Kurmann Mergers & Acquisitions
We support owners and companies in Acquisitions and Divestitures, Restructurings and Corporate Governance topics. We provide individualized support for our clients with full personal commitment. Our approach is customer centric and tailor-made to the specific situation.Contact us here.